Moving House...
"Bilingual Blogger", when Lizard introduce me this big word "Bilingual", I though it is Biling ual, two separated words. *sigh* want to blame, blame on my low standard of English. I never saw this big word before.

So yeah, I will be a Bilingual Blogger soon, a new blog will be up soon, a new life, a new journey will start. I can't totally be change to Chinese Blogger because it will not fit the purpose of me stating a blog in the first place. And also, I can't be a total English Blogger because my Chinese standard will drop. And also, Sam (A teacher I know online) said I can improve my English by translating Chinese to English, provided using the right word. I am now using thousands, millions of ways to improve my English. I hope "Bilingual Blogger" way will help to improve my both language, especially English.

In the new blog, I might even sing (Yes, but not confirm yet.), story for your pressure and etc. A lot of things will be there for your, me blog, your participate by doing what you should do(tag...). Please, your have to participate if not my "Bilingual Blogger" way will be very dry. Please, take part, have fun!

But before leaving this blog, this blog brings me a lot of memory. This blog at first is a blog that wrote down what happen in my school and serve as a website with study notes and etc. Then after people had told me that it's very dry, so I ended up posting things in my own fun ways which got quite of a lot positive feedback. I must thanks to people who had helped me to make this blog not dry at all and people had been tagging, leaving comment in my blog. I am not famous Blogger like Mr. Brown or XiaXue, but those little comments and tags had already made me feel that I am already a successful Blogger. And of course, this is the blog where a lot of people tagging (from the starting of writing blog in my own fun way.) and not like other pass blog, yongkian and skyblueyk. Thanks everyone, If not your, there is no today's YK… (What kind of English is that??!!)

Bilingual Finger is schedule to open on 1 November 2005, by that time your really must read my blog more often and tag more often also. The new blog will support Chinese tag-board, using UTF-8 encoding.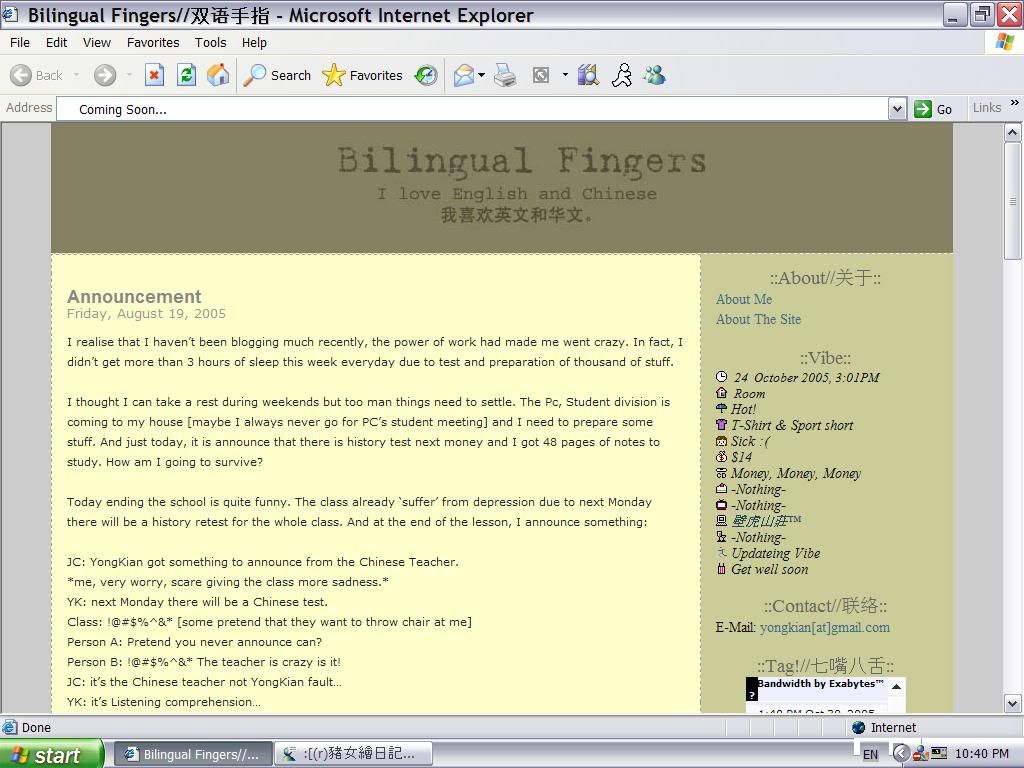 New Bilingual Finger Template